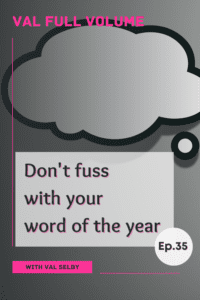 Have you chosen your "Word of the Year" yet? Maybe you've decided that it isn't something you are going to do this year – that's fine, but listen in to what Val has to offer about choosing your "Word of the Year".
Your word isn't always something that you sit and contemplate for days or weeks. Sometimes it's something that just pops into your head, and you say, "Yup, that's the right one." You don't even have to have a word for the whole year, nor do you have to have it ready now. Sometimes the word will resonate with you in July – and that's ok.  It's what works for you and your business.
Today on Val Full Volume, Val is chatting about her word of the year, why she chose it, and how YOU can participate in it. Interested?  Listen in to find out more!
Ways you can collaborate with Val:
Connect with Val Selby:
Take a minute to leave me a review on Apple Podcast if you like the episode. It can help me reach a larger audience.