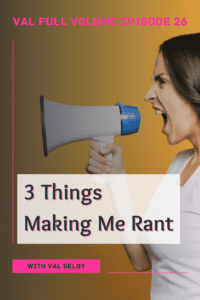 Val really owns her podcast name this week on Val Full Volume podcast. You won't find any business nuggets in this episode, but instead, 3 things that pissed her off and she wants to rant about them.
It all started with receiving an email from a company to review their product. Upon digging up, she found it was only for iOS users, and when she emailed about this, she received an auto-response through their contact email.
Even in this rant, Val shares an important message about knowing your target markets, owning your choices and establishing human connections, especially if you are in business-to-business markets.
Also, Val is looking for some podcast guests right now, so if you're interested in chatting with her, please email bosslady@valselby.com.

Resources mentioned in this episode:
Here's the iOS vs Android stats link I mentioned: https://hypebeast.com/2022/9/apple-iphone-overtakes-androids-us-market-share
Get access to my Quick Biz Action guide that will help you move your business forward. A total of 14 quick business videos are included with each action. – 14 Quick Biz Actions
Knowing your ideal customer is the foundation of your biz, So I've got a quickie workshop for you with a 20-minute video of WHY you must figure out who your ideal customer is. – Who the Hell Are You Talking To? Free mini-course

Connect with me:

Website
Facebook
Instagram
YouTube
LinkedIn
Twitter