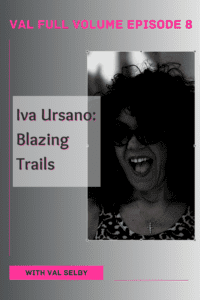 **DISCLAIMER: this podcast episode has sensitive subject matter regarding suicide. If you need help, If you're having suicidal thoughts, call 1-800-273-TALK (8255) to talk to a skilled, trained counselor at a crisis center in your area at any time (National Suicide Prevention Lifeline). If you are located outside the United States, call your local emergency line immediately.
Heyyy, we're talking to Iva Ursano today. She has some amazing stories to share with us. Iva is the epitome of perseverance. After an abusive relationship, she moved to a new country. She let her tea leaf reader decide which country! Can you believe that?! She made a complete career change. Teaching herself about freelance writing with YouTube videos. She's had her income completely wiped out due to Facebook and Pinterest business model changes. And through all that, she's still winning. She is a true bada$$.
In Iva's inspiring story, you'll learn that no matter how low you seem, you're never out of options. Besides being a writer, she's also a coach who says what needs to be said. Having strong feelings is not something she fears, and in today's episode, she explains why it's important to have them and how to deal with them. I hope you will find her grit and determination as inspiring as I do.
Iva Ursano is a retired hairstylist turned freelancer from Ontario Canada living a life of freedom and joy in Guatemala. Her two main goals in life are to inspire people around the world with her blogs and to feed hungry little bellies in the poor town she now calls home.
Iva completely reinvented her life in 2012 after leaving an abusive relationship and hitting rock bottom. She left her 25+ year hairstyling career and became a freelance writer. In 2015 she moved to Guatemala, a place she now calls home, and teaches other women how to completely transform their lives in midlife and beyond.
Connect with Iva: