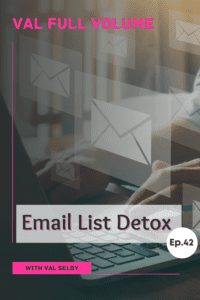 Are you taking the time to review your email list?
Val found out that she has been spending an extra $600 per annum just to sustain her email list she had built up over the years through packages and giveaways. This was the wake-up call to remind her to activate her re-engagement campaign.
If you are a regular to this podcast, you will know Val often goes through adventures we are also familiar with and shares them openly, which is what makes her such a brilliant coach. In this episode, she talks about beginning her re-engagement email campaign journey. This campaign involves sending a series of emails to your list with the aim of re-engaging or reactivating inactive subscribers. Through this exercise, she aims to identify her true community and let go of inactive subscribers. This experience will help her detect her actual community and get rid of the dead weight.
So, if you have an email list with poor open rates and click-through rates, then this episode is for you. Val shares how you can finally purposefully build a list that is more likely to convert and engage while saving yourself money.
Connect with Val Selby:
Ways you can collaborate with Val:
Take a minute to leave me a review on Apple Podcast if you like the episode. It can help me reach a larger audience.