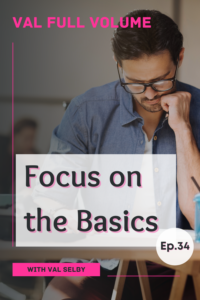 If you focus on just three of the most important tasks in your business, you will stay hyper-focused. You'll stop procrastinating; you'll know exactly what you need to do for the day, and you'll be so excited, you'll get it done! Can it really be that simple? Yup! Just focus on the basics!
Having a plan and knowing what tasks are most important to get done can be a great way to stay motivated and on top of things. As Val mentions in today's episode, her three most important basics are her main focus to help her stay on top of her to-do list and avoid feeling overwhelmed. These basics are an umbrella for other tasks, but by keeping the focus on the main tasks, it can help you make the most of your time and energy. Check out today's episode to learn more about Val's three basics and how they can help you stay on top of the important tasks and get them done to find clients, get money, and grow your business.
Resources mentioned in this episode:
Get access to my Quick Biz Action guide that will help you move your business forward. A total of 14 quick business videos are included with each action.
Connect with Val Selby:
Website
Facebook
Instagram
YouTube
LinkedIn
Twitter
Take a minute to leave me a review on Apple Podcast if you like the episode. It can help me reach a larger audience.