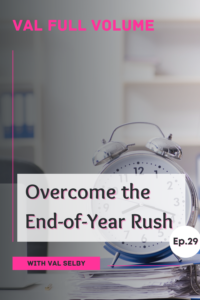 It might be close to the end of the year but are you finding yourself stressed out from all the messages of hustle and rush?  If you thought you were inundated with the number of emails going out in September about Q4 showing up, then you are probably feeling the push from those telling you it's close to the end of the year.  Like we didn't know!
You don't have to be stressed and overwhelmed by the thought of the end of the year coming.  The end of the year doesn't mean "the end".  You can take as much time as you need to complete your goal.  That's the beauty of being an entrepreneur, right? Today, I'm going over how to not get caught up at the end-of-year trap, stop the overwhelm, and maybe even bring some insight to you on how to approach your quarters (hint – it doesn't have to start January 1st!) Let's change your mindset on that and release the true potential you have.
Resources mentioned in this episode:

If you want to get past your roadblocks that keep you stuck, then Boss Action Membership is for you.
Get access to my Quick Biz Action guide that will help you move your business forward. A total of 14 quick business videos are included with each action.
Connect with Val Selby:
Website
Facebook
Instagram
YouTube
LinkedIn
Twitter
Take a minute to leave me a review on Apple Podcast if you like the episode. It can help me reach a larger audience.