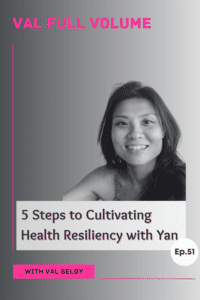 As thriving female entrepreneurs, we need to put an end to health issues. It is crucial to slow down and take care of oneself to avoid such consequences. Women tend to be in a rush all the time, which can negatively impact their immune systems, leading to chronic illnesses. Unfortunately, this has resulted in women experiencing burnout and encountering ongoing health problems. Women have been led to believe that they must always be working towards success, resulting in a never-ending search for work-life balance.
 
In this week's episode, Val introduces Yan, a guest speaker who will not only change your mental health but also enhance your physical health. Yan is a certified and trained women's integrative health and nutrition coach, Qi movement and Pilates teacher, and Energy healing practitioner with a degree in Food Science and Technology. As a young adult cancer survivor and type A personality herself, Yan brings a unique perspective to her practice and emphasizes the importance of self-care and rest. She has a unique perspective on rest, which many ambitious women like yourself may find unfamiliar. She treats it as a means of renewal and not as an indication of vulnerability.
 
Learn to improve your productivity by understanding that women are naturally designed to function optimally when in a state of rest, digestion, and manifestation. This episode will teach you how to develop your own health resilience, immunity, and self-love. With the right tools, you can easily enter a state of flow where all aspects of your life become effortless. Press play and begin the journey of becoming your own healer!
Connect with Yan:
As a certified women's integrative health coach, movement teacher, and energy healing practitioner, she empowers female cancer survivors above 30 to cultivate their own health resiliency, immunity, and self-love to flow more in her "rest-digest-manifest" state during her peri-menopausal years.
Connect with Val:
Ways you can collaborate with Val: