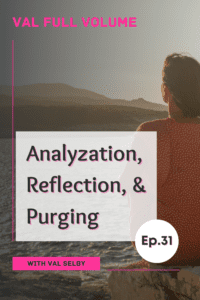 End of the year. Is your inbox full of gold like mine is? Make sure you are subscribed to your competitor and others in your niche. Read what they have to say; there are some great ideas in those emails. Some pure gold for you to review. But this episode isn't just about the gold in your inbox but also about the symbolic end-of-year rituals. The resolutions, the deep analyzation, the reflection, the purging….  We all know it's coming, but do we have to always do it now?
 
With so many ideas coming at you fast and furiously, perhaps it's time to analyze, reflect, and purge. But not just now; make this a monthly habit. When you know where your business is going and what your stats are, you can create goals for what's working and change directions for those things that are not. Val is celebrating, and you should too.
Resources mentioned in this episode:
If you want to get past your roadblocks that keep you stuck, then Boss Action Membership is for you.
Get Past Your Sh*t – I'm in chapter 13 and it's my epiphany/wake-up call.
Get access to my Quick Biz Action guide that will help you move your business forward. A total of 14 quick business videos are included with each action.
Connect with Val Selby:
Website
Facebook
Instagram
YouTube
LinkedIn
Twitter
Take a minute to leave me a review on Apple Podcast if you like the episode. It can help me reach a larger audience.