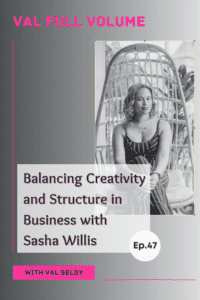 Are you a creative entrepreneur who's overwhelmed and exhausted from handling administrative and marketing responsibilities? If that's the case, it's essential to remember that you're not running your business to be trapped in it. Fortunately, this episode is just what you need to manage various aspects of your business while still nurturing your creative side.
A solid strategy is essential for business success, according to Val and Sasha Willis, business strategists extraordinaire. This allows you to maximize your time. In order for your business to grow and succeed, you need a plan and goals. Whether it's weekly, monthly, or yearly planning, it all depends on your goals and capabilities.
So, if you have the skills but lack the proper strategy, tune in—Sasha and Val have got your back! They'll guide you in maximizing your business potential, allowing you to continue creating and thriving.
Connect with Sasha Willis:
Sasha Willis is the boss lady behind By Sasha, host of the Strategy for Creatives: Business Minus the Bullshit Podcast, co-host of the Swirl and Sip Podcast, and owner of the Boundless Audio Podcast Network. As a business strategist, podcaster, and multi-facet business owner, her goal is to empower all women business owners by strategizing and action planning to build and grow their brands without the stress.
Connect with Val:
Ways you can collaborate with Val: