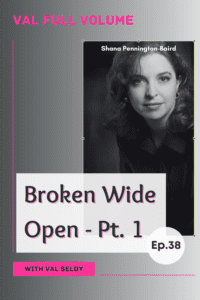 Shana Pennington-Baird is a talented Voice Artist, Entrepreneur, Audiobook Narrator, and Voice-over actor who is vibrant and full of life. Some would describe her as a lady who is gorgeous inside and out, and some would just describe her as radiant and energetic. In 2019, Shana and her family took a memorable holiday to Ireland, and it changed her life forever after she had a near-death experience in this beautiful foreign land. Life threw her a hard curveball, and she took it with so much grace and humor.
Today, you will meet this most wonderful raconteur as she personally shares her story in this episode here at the Val Full Volume Podcast. She is Val's first guest speaker for 2023, and her story will change your perspective on life and how to live it. This episode is so heartwarming as two heart-centered people, Val and Shana, bond over their similar experiences that have helped shift their priorities for more meaningful and connective experiences in life and in business. You will get to experience life through Shana's eyes and see that the world is wonderful even in the darkest hour. Val, as always, attracts people who share in her energy, and this guest truly speaks volumes of the type of community Val is creating for her listeners.
Sit back, take a cup of your favorite drink, and enjoy part 1 of this two-part series interview with Shana Pennington-Baird.
Connect with Shana:
Shana Pennington-Baird is a Voice Actor and Musical Theatre Actor of almost 30 years in the Seattle area. She is the owner and head instructor at Seattle Voice Academy where she teaches voice acting techniques, vocal health, and more.
Ways you can collaborate with Val:
Connect with Val Selby:
Take a minute to leave me a review on Apple Podcast if you like the episode. It can help me reach a larger audience.