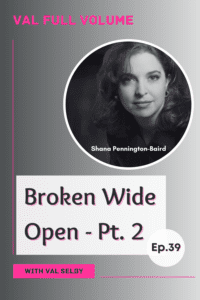 In this episode, Shana continues to share her traumatic ordeals. She shares about her aortic heart dissection and her breast cancer diagnosis journey. Val and Shana also get deeper into an issue that seems to be affecting a larger population in America. The issue is more rampant than we would like to admit, and it's a chronic health issue. They discuss it and how it has contributed to an increase in people working from home, and some of you may relate. They also share their coping mechanisms, and one of them is gratitude. Their take on it will have you auditing your life and embarking on a "live life to the fullest" journey.
The episode can only get better, so sit back and learn from the rest of Shana's story. If you are new to this podcast or story, we recommend you go back to the previous episode and start Shana's story right from the beginning.
Connect with Shana:
Shana Pennington-Baird is a Voice Actor and Musical Theatre Actor of almost 30 years in the Seattle area. She is the owner and head instructor at Seattle Voice Academy where she teaches voice acting techniques, vocal health, and more.
Ways you can collaborate with Val:
Connect with Val Selby:
Take a minute to leave me a review on Apple Podcast if you like the episode. It can help me reach a larger audience.