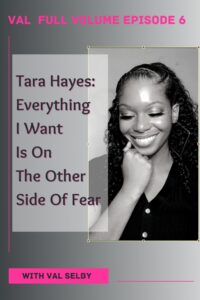 A person's journey to overcome anxiety can last a lifetime.  It makes many of us freeze in our tracks and feel panicked.  My guest today is Tara Hayes, author of Panic to Picnic: How to Find Your Own Personal Path to Peace of Mind.  She is here to eliminate our fears and remind us that you can be an expert, even if you need help.
Our business is influenced by our fears and anxieties.  We must embrace those fears in order to succeed.  Talking about our fears and anxieties takes courage.  Tara talks about her RACE to Recovery and how she was able to face her fear and anxiety, accept what works, and push herself to come out on the other side.  Get on board with us as we ride the rollercoaster of anxiety and discover what's beyond the fear.
Tara Martina Hayes is an Author and Mental Wellth Mentor who is dedicated to helping anxious working women like herself to heal while she heals herself.
Tara took the bold decision of leaving her education as she realized that her background doesn't completely align with what she currently does and her purpose which is to help heal others.
Tara went on to become a self-published author of her book, 'Panic to Picnic: How to Find Your Own Personal Path to Peace of Mind'. She decided to start her page on Instagram to help working women overcome worry, fear, and anxiety to regain control of their lives.
Her page teaches tips for anxiety management as well as entrepreneurship and business growth tips.
This includes different activities like journaling, nutrition, exercise, and developing a positive mindset.
She is also the owner of Tarafied Publishing, LLC in which she helps Wannabe Introverted Female Entrepreneurs self-publish their stories.
Connect with Tara: