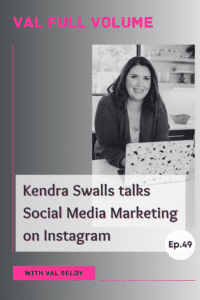 If you're an entrepreneur, you know how crucial social media marketing is in today's world, but it can also feel overwhelming and tedious. Fortunately, Val has brought another amazing expert to her podcast who can help us overcome these challenges. Meet Kendra Swalls, a photographer and business educator who specializes in helping female business owners create financial and time freedom while also maintaining balance in their lives.
Her approach is simple: less is more, and Kendra's expertise focuses on shifting your mindset from survival mode to success mode. In this podcast, she shares some fantastic tips on getting the Instagram algorithm to work for you, from the purpose of each "neighborhood" (Stories, Feed, Lives, and Reels) to what types of content will increase your reach and interactions on this powerful platform. This podcast was truly a masterclass, easy to follow, and filled with valuable insights for entrepreneurs looking to find joy in marketing their businesses.
The road to marketing success has never been clearer. Get ready to take notes and press play on this episode!
Connect with Kendra Swalls:
Kendra is a former teacher turned photographer and marketing coach. With over 10 years of experience growing her photography business, she now teaches other photographers and creative business owners how to market their businesses so they can find success as well.
There is no one-size-fits-all plan when it comes to building and growing your business. Take the Marketing Style Quiz to learn more about the best marketing path for your business based on your unique style and personality.
Connect with Val:
Ways you can collaborate with Val: