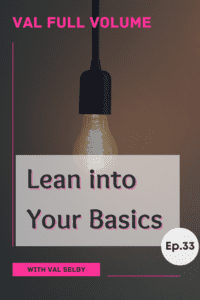 What are you excited about for 2023?
Val is back and ready to crush 2023 by following a few simple steps. Awareness of what you are doing, stopping the "shoulds" and "coulds," and then getting back to the basics. Be more mindful of what's on your list and what really is a priority. Sometimes those items are on there because they are expected, but are they really necessary? If you aren't already doing them, then they probably aren't.
Val is nailing down the basic tasks where she'll see success and traction. Working on those tasks will make it easier to see growth in your business. It is easier to work in and on your business when you see success and growth. Relook at your old views – are they relevant? Could they be changed? Brought back down to a basic level? Relook at your goals and re-evaluate where you need to be. Goals can be overwhelming, but it is important to have them so that you can benchmark your success.
Resources mentioned in this episode:
If you want to get past your roadblocks that keep you stuck, then Boss Action Membership is for you.
Get access to my Quick Biz Action guide that will help you move your business forward. A total of 14 quick business videos are included with each action.
Connect with Val Selby:
Website
Facebook
Instagram
YouTube
LinkedIn
Twitter
Take a minute to leave me a review on Apple Podcast if you like the episode. It can help me reach a larger audience.