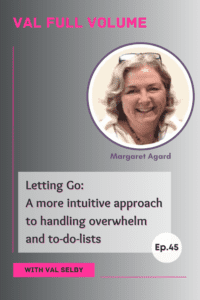 Are you struggling with a never-ending to-do list and feeling overwhelmed? While many of us try to solve this by making shorter lists, outsourcing, or simply stopping procrastination, our guest this week, Margaret Agard, discovered a different approach: letting go and listening.
If you're looking for a more intuitive approach to managing your to-do list and feeling in control, this conversation is for you. Margaret and Val share their stories of learning to ask a higher power, "What do you want me to do?" and how this simple question has transformed their lives. For Margaret, it has led to a more productive, relaxed, and less chaotic life. For Val, the journey has just begun as she enters her 50s with a newfound trust in her inner voice.
As with every episode with Val, this conversation is an insight that we can hand over our to-do lists to someone who sees the bigger picture, someone who can guide us toward our best selves. Val invites you to listen in with an open mind and heart and allow your inner intuition/power/source/God/Universe to help guide you to your next destination.
Resources:
Connect with Margaret:
Connect with Val:
Ways you can collaborate with Val: