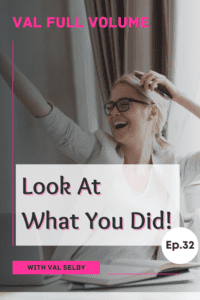 When was the last time you sat down and reflected on the past year in your business? Is this something that you do regularly at year's end? Or is this something you've never done? Today, Val is talking about the importance of setting and achieving goals and realizing those small goals you've reached.
Sometimes in business, we start off the year with a plan, and that plan doesn't exactly work out the way we imagined. Does that mean the year was a bust? Hell, no! Sometimes that means we are setting our future selves up for an amazing year. Celebrate those classes you took, the workshops you held, the newsletters you sent—all this adds up. Don't forget to reflect on all the great things you did in your business this year.
Resources mentioned in this episode:
If you want to get past your roadblocks that keep you stuck, then Boss Action Membership is for you.
Get access to my Quick Biz Action guide that will help you move your business forward. A total of 14 quick business videos are included with each action.
Connect with Val Selby:
Website
Facebook
Instagram
YouTube
LinkedIn
Twitter
Take a minute to leave me a review on Apple Podcast if you like the episode. It can help me reach a larger audience.