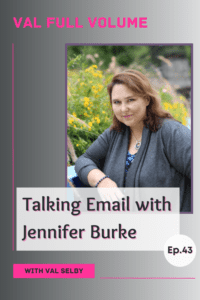 Jennifer Burke is a marketing geek who helps take the mystery and headache out of marketing and tech for online business owners. Jennifer has always been a tech geek and is a phenomenal marketing coach to numerous business owners, including Val. This week, she has teamed up with Val on full volume, advocating for authenticity and consistency in email marketing.
This week's conversation is about effective email marketing. The speakers discuss the importance of consistency in email marketing and how to match your email content to your current message and offerings while adhering to your business mission. They also emphasize the value of seeking out coaching and advice from others in your industry. The conversation also touches on the idea that email software needs may change as your business grows and evolves, and they encourage you to choose the software that best fits your current needs and to be open to making changes as necessary.
Val and Jennifer's conversation provides valuable insights and tips for anyone looking to improve their email open rates and conversion. By emphasizing the importance of consistency, seeking coaching and advice, and regularly reviewing and updating email content, the ladies offer practical steps that you can take to improve your email marketing.
Connect with Jennifer:
Connect with Val:
Ways you can collaborate with Val: