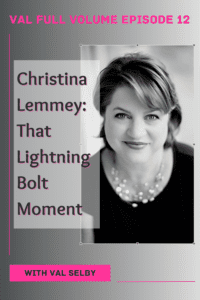 Consider what it would be like to have a career and always be waiting for validation.  Waiting for permission, that one person to say you can do it?  Then one day, like a lightning bolt, it hits you – you don't need any permission.  You can do whatever you want with your business and your life!  This is exactly how Christina's life made a turn and she started her podcast, Hudson Valley Bride.
My friend Christina Lemmey is here to chat about her lightning bolt moment and how she made the decision to go from ghostwriting and podcast coach to creating the podcast of her dreams.  We are talking about that hard thing today… Change.  All the market research and all the binge-listening to podcasts can't prepare you for that one moment in time where you know instantly you need to make a change.  Listen in as we talk about how to create your dream ideas into a reality.
Connect with Christina Lemmey:
Christina has worked online since 2008. She's morphed into different roles, first as a VA than a ghostwriter, and now as a podcasting coach & host.
Facebook
Instagram
LinkedIn
Website
Hudson Valley Bride Podcast
Ready to be less in your head and stop sabotaging? Well then, I'm ready to coach you. Take your first step to awareness and join us in the Boss Mindset Membership.