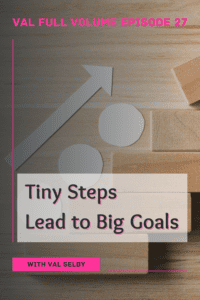 It's almost the end of the year, have you remembered the goals you set last December? The program you planned to launch, or the habit you want to develop? How many of them have you achieved? Are they going as you planned?
In this episode, Val wraps up her journey this year. She's talking about what she planned, what she achieved, and where she changed her plan. She reminds us to focus on what we've accomplished and check where we fall short. She shared some helpful tips for writing a to-do list that will help you finish that task.
Resources mentioned in this episode:
Kim Parkinson at KP Creative Media – Val's Podcast Manager. Check her out here: www.kpcreativemedia.com
Episode 1: Focus: Your Number One Stumbling Block
Are you looking for a way to promote your business? We have niche bundles ready for you to find your target audience! Bundle Bash
Get access to my Quick Biz Action guide that will help you move your business forward. A total of 14 quick business videos are included with each action.- 14 Quick Biz Actions
Connect with me:

Website
Facebook
Instagram
YouTube
LinkedIn
Twitter
Take a minute to leave me a review on Apple Podcast if you like the episode. It can help me reach a larger audience.