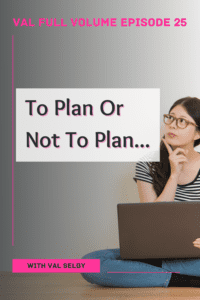 Struggling with finding the balance between jumping into new projects and taking the time to plan?
You're not alone. Sometimes you need to have that time to regroup, recharge and recoup. Having that downtime can lead to amazing ideas.
Whether you decide to jump on those ideas or plan them out can lead you on very different paths. But is there a right way or a wrong way?
In this episode, Val talks about her journey of becoming more aware of her need for downtime and how that has changed her business plans. Changing business plans doesn't always mean changing websites, email addresses, and socials – it may just mean that you need to pay attention to where you are going and feel the steps to move forward to make the best decisions for you and your business.
Listen in as Val talks to you about whether you need to plan or not plan…
Resources mentioned in this episode:
Get Past Your Sh*t – I'm in chapter 13 and it's my epiphany/wake-up call.
Connect with me:
Website
Facebook
Instagram
YouTube
LinkedIn
Twitter