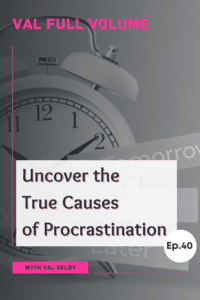 "Procrastination is, hands down, our favorite form of self-sabotage." In this episode, we will hear about procrastination from Val's point of view. Procrastination is a very common and sometimes misused word, but thank God for a girl like Val! We get to be privy to what it is from someone who has dealt with it her whole life and has had some hits and misses because of it.
If you feel frustrated about how you consistently procrastinate or you are wondering how you can get out of the cycle, then this episode is for you. Val explains what procrastination is and even shares some forms of procrastination in the episode. One of the biggest takeaways in this episode is that life is too short to procrastinate. Sometimes life happens, and it forces us to move some priorities down, and it's ok. She shares the importance of being able to identify procrastination, its causes, and how to deal with it.
These coming weeks, she will support her community on all things procrastination, and like she says in this episode, there is no better way to deal with it than with a group of like-minded people because when you share and advise others, it gets more ingrained in you. If you are looking for some sisters to share in your journey, just click the link below and join her amazing community. Listen, learn, and thrive!
P/S: To those who tuned in last week, you will be happy to know Val had an amazing 50th in Las Vegas, and she shares all about it at the beginning of the episode.
Connect with Val Selby:
Ways you can collaborate with Val:
Take a minute to leave me a review on Apple Podcast if you like the episode. It can help me reach a larger audience.