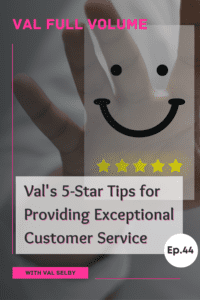 Get ready for a Val vent! In this podcast episode, Val shares her visit to a walk-in clinic for a check-up. Unfortunately, the service she received was far from satisfactory. But instead of just getting frustrated, Val used this experience as a teaching moment. As a service provider herself, Val knows that the customer experience should always be positive and hassle-free. So, listen up, business owners! We should offer customers simple, standard service and information that can save them time and effort. And don't forget about good communication and follow-through, whether it's in-person or online.
As coaches and service providers, let's talk about your online customer experience. The truth is, your website needs to be user-friendly, systematic, and visually appealing if you want to keep those customers coming. So ask yourself these questions:
Does your website have a clear call to action and an easy-to-navigate flow?
Can visitors understand what your business is all about just by visiting your site?
Is your website mobile-friendly?
Is your customer service on point?
Tune into this episode and get the tea from Val on how to ensure 5-star customer service for your online business. And, as a bonus, you'll get access to her ingenious free audit of your website. Don't miss out!
Connect with Val:
Ways you can collaborate with Val: